The High Altitude View
How to Gain Perspective to Grow Your Practice
How you do anything is how you do everything. How you see anything is how you see everything.
By learning to take the High Altitude View of life, you will become more self-aware and will gain more control over future outcomes. Steve Plewes shares his experience, perspective, philosophies, and wisdom that he acquired and used to build a successful career, and shows advisors how to reach a higher level of success and happiness.
Informative, instructive, and transformative, this book reveals the truths you must grasp, as well as the mindsets you need to adopt, to attain the business success and fulfilled life you truly want.
You'll gain a new perspective about yourself, your clients, and your business. You'll gain clarity around who you really are, what you really want, and most importantly, why you want it. You'll take away tools, techniques, and mindsets to help identify and overcome obstacles to your highest-level success.
Whether stuck or at a plateau in business or life, any advisor at any career stage will benefit from reading this book.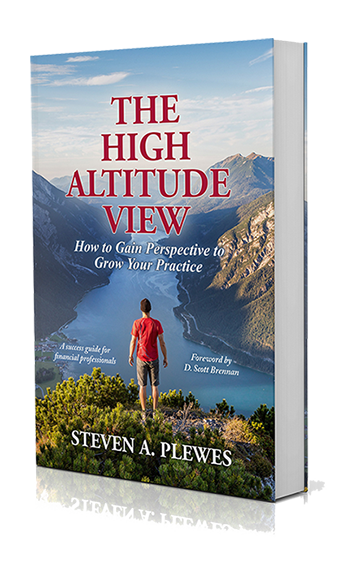 Praise for "The High Altitude View"
" This is a must read, learn, ask, and act book that will deeply affect your life and those you choose to serve. Steve's words of wisdom come from the inside where the reality of humanity exists – one's soul. Steve authentically shares his journey of self-acceptance that has led to his personal and professional success. You will be inspired to ask questions and learn more of yourself and your clients. And by doing so, whether in defeat or victory, you will experience the richness of life that is truly life with The High Altitude View! "
"Some people succeed in our business, some people write books on how to succeed in our business. Just occasionally someone who has really succeeded writes a really good book telling the rest of the world "how." Such a person is Steve Plewes and such a book is The High Altitude View. Read it, put what it says into practice; it will give anyone who does the path to follow to achieve real success."
"What got you to where you are today won't get you to where you want to go tomorrow. Complacency and doing things the way you have always done them in the past will no longer serve you well moving into the future. Today's fast-paced environment calls for trusted advisors to think and act differently. Steve's book, The High Altitude View, illustrates how embracing a new mindset can change your world, and that of your clients. This book is a must read in order for you to reach a higher level of happiness and success."
"Steve Plewes has been a leader in the financial services industry for nearly 40 years. He is now sharing his knowledge and experience to save you many years of 'on the job training.' If you read this book and APPLY it to your life, there is no doubt in my mind that you will excel in this business. Steve will literally FAST TRACK you to the top!"
Book Steve for your next event!
coachplewes@gmail.com